There's a constant increase in the interest of CBD. From butter and oils to creams and lotions, CBD can be consumed in different forms. Not just this, but CBD-infused drinks are really something that are catching more eyeballs these days! Do you know what THC CBD beverages are, and how do they work? 
What Are CBD Infused Drinks?
As the name suggests, this is a drink that includes CBD (cannabidiol), one of the two main substances that is isolated from cannabis; The other primary substance is THC, which stands for tetrahydrocannabinol.
There is a common misconception that CBD can get you high. This is not the case, as the compound responsible for the psychoactive effects of cannabis is THC.
At the same time, you need to read the label of any drink carefully as you look for THC CBD beverages. That way, you understand if there is THC in that drink or not. Now, numerous drinks are produced with CBD. If you want to give CBD a try, you may be interested in tasting CBD infused drinks.
Do They Mix Into a Cocktail?
Yes, it is possible to take CBD and mix it into a cocktail. Everyone has their preference, and you may want to try several options before deciding what is best for you. A lot of people like to try CBD cocktails because this may help them relax while some believe this may be a way for them to manage stress. You need to look at the ingredients in the cocktail to make sure you understand what you are consuming with THC CBD beverages.
CBD drinks are taking over the internet. Many people are sharing the recipes, and some are falling in love with the diverse options available. If you are interested in giving CBD infused drinks a try, take a look at a few of the most popular drinks below! THC CBD beverages are a must-try!
One of the most popular options you may want to try is called Buddha Teas, who produces organic tea. Before they decided to give CBD a try, they had already produced a high-quality product. Importantly, it is impossible to extract CBD oil using water. Therefore, this company uses a CBD powder that is soluble in water. That way, CBD will blend well with your tea, making sure the primary ingredient doesn't get stuck in your tea bag!

The company has worked hard to develop a wide variety of products. That way, everyone can customize their tea to meet their specific needs. The company has numerous positive reviews from customers who are very happy with the product. Furthermore, the product has been thoroughly tested to minimize the risk of side effects. The company notes that people have been drinking this type of tea for thousands of years.
Now, there are plenty of flavors available. All CBD is grown organically, leading to consistent results across the board. Why not take a look at the tea flavors available and consider giving them a try? This could be a great way to consume CBD.
If you love coffee in the morning, you will enjoy this drink from Kickback. This is a specific type of coffee that has been infused with CBD. Furthermore, it is also gluten-free and vegan, which is perfect for people with many dietary restrictions. All of their coffees come from a single location in Mexico, and the company has produced consistent results, much to the delight of their customers.
You are also in control of how much CBD you consume. Their coffee products are available in a wide variety of doses, so you can decide how much CBD you want with your coffee. All of their products are free from all preservatives. They are made using only organic ingredients, and all of their products are natural. Furthermore, the company uses CBD that is tasteless, odorless, and water-soluble. Kickback uses a nano-brand spectrum CBD that is stronger than regular CBD. Therefore, they can use less CBD and deliver the same results.
Finally, if you are looking for a sustainable company, then Kickback might be the best option. All packaging is recyclable and free from BPAs. The company is always looking toward the future, making sure they put the needs of the environment and their clients first. If you want to put a bit of CBD in your coffee, then take a look at the options from Kickback!
When people think about CBD and hemp, they usually think about the Pacific Northwest. Therefore, it should be no surprise that one of the most popular options comes from this part of the country. Aurora Elixirs is led by women and focuses on using unique flavors in its line of CBD-infused drinks. The company offers drinks that are packed with unique flavor combinations such as cayenne and citron.
All of their drinks are made in small batches to ensure quality. Furthermore, they are made using a proprietary blend of extracted ingredients to give a result that hits the tongue in multiple layers, allowing you to enjoy the complete experience. Some of their drinks have hops in them, but they are still non-alcoholic. Some people use this drink to remain calm, while other people enjoy drinking Aurora Elixirs to relax.
If you want to alleviate your stress without turning to alcohol, then you may want to try Aurora Elixirs. This is a line of drinks from a company with the best interests of the customer at heart!
If you want to get creative with your CBD beverages, then you may want to consider Sprig. These are sparkling adult beverages that have become popular across the country. Furthermore, this is an adult beverage that you can still drink while you drive! It is perfect for those looking for a gluten-free option, and it does not contain very many calories. Therefore, they could help people who are looking to lose weight.
The company also shares a wide variety of recipes that might help you spruce up your experience. For example, you might be interested in a sangria that combines a Sprig and some fresh fruit! The possibilities are endless if you decide to give this option a try.
The company has taken the market by storm, and they offer some of the most affordable drinks on the market. Sprig has reduced the barrier to entry in the competitive CBD market, so why not look at a few of their flavors and give them a try?
This company evokes numerous feelings of nostalgia. There is nothing better than enjoying a cold soda after a long, hot day of playing outside as a child. Now, it is possible to go back to those days with this adult line of beverages! This is a unique line of soda from Cannabinoid Creations that will help you fall in love with soda once again. The flavors are uniquely named, such as "Cartoon Cereal Crunch," making their intentions obvious.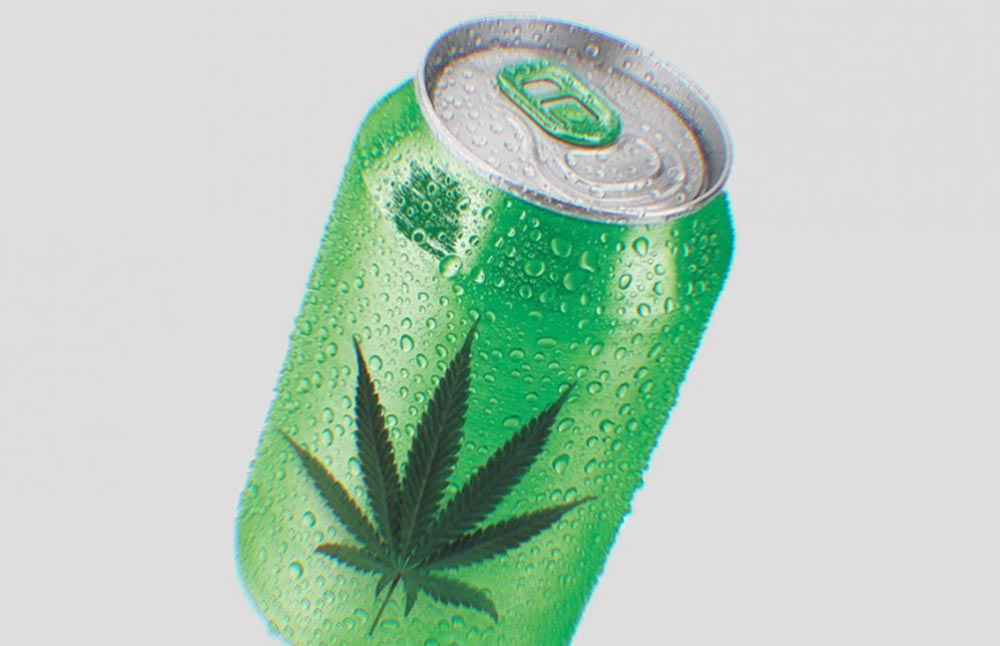 This company has found a way to put together some unique flavors in a way that you cannot find anywhere else. The cannabinoids used in these drinks are pharmaceutical grade, so you know you will get your money's worth. The flavors are bold, the nostalgia is real, and you will have a fantastic experience if you give these drinks a try.
This is also a company that makes sure all the hemp it uses has been sustainably sourced. That way, you and everyone else will continue to enjoy CBD and hemp-infused drinks for years to come. They offer sodas such as orange cream, ginger ale, and grape line. There are numerous flavor combinations available, so take a closer look at some options and find the best drinks for you!
Use The Best CBD Products From Soul Rebel Cannabis Company
You might even be thinking about making your own CBD beverages at home. If that is the case, you need to have access to the best possible product. That is where Soul Rebel Cannabis Company can help you. We offer a wide variety of products that can help you elevate your experience. We have premium and affordable options, including edibles, topicals, vapes, seeds, flowers, and concentrates. That way, you can create the best possible CBD beverages in the comfort of your own home. We make sure that all the cannabis we use has been sourced sustainably because we care deeply about the environment. A member of our team is always available to help you find the best possible products. Some of the reasons why our clients loved us include:
We offer the best quality products in the local area.

Our customer service is exceptional, and we always customize our products to meet your needs.

We can use our connections throughout the industry to help you get the best product possible at the lowest possible price.
Whether you are new to the world of CBD or know precisely what you are looking for, we can help you. We have developed a strong reputation for always putting the needs of our customers first. It would be our pleasure to do the same for you. Contact us today to learn more about our CBD products, and feel free to swing by one of our stores!